Eulene Ramsey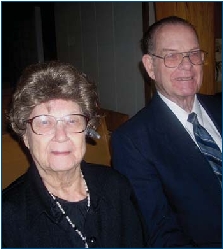 Darrel and Eulene Ramsey
"In the fall of 1994, the phone rang, and Eulene Ramsey was on the line. She said that she had seen, in our World Evangelism paper, an article saying that we were in great need of help in the office. She explained that she and Darrell had planned to retire from their jobs, with the expectation of doing foreign mission work somewhere, self-supported from their retirement income. However, while Darrell had been in Ghana, on a follow-up trip for World Bible School, he had contracted cerebral malaria and would not be able to live and work outside the country. Her question was, "Could you use my help in your office?"
"Darrell and Eulene had personally built their house in the suburbs of Houston, TX. They had been members of the Vidor church for many years, with close friendships among the membership. When they moved to Winona in January of 1994, they sold their house, left the home church and their friends behind, and settled in the small town of Winona, with the small church here in which there were few people of their age. It was a drastic and sacrificial change, in many ways. During fifteen years of dedicated work, they independently provided for their own financial needs, asking nothing except the opportunity to be of service.
"I often told Eulene that her example of working till the job was done, regardless of the amount of pain she was enduring from her arthritis, would mean that I would never be able to complain about anything! She reported to work on time, no matter how she felt. She kept up with the address data base, she did the bookkeeping, she typed manuscripts, she did whatever was needed to keep the office running smoothly. Half of each year, she and Barbara Oliver carried all of that responsibility alone, and we are eternally thankful for all that was accomplished through their efforts.
"I admit, it was two or three years after the Ramseys moved to Winona before I had the courage to ask Eulene, outright, if they regretted their decision! Frequently, thereafter, she told me what a blessing it had been to be a part of the group, sharing in the work here. Barbara became like a daughter to them; Byron and Gay Nichols (current editor of The Voice of Truth International) always stayed with Darrell and Eulene when they came for our team meetings; Fenter and Sue Northern were a continual blessing in their lives while they worked with the church in Winona; Paula and Jerry Bates have been attentive since their move here in 2007; and the church here in Winona has shown, even in this time of need, that there is a supportive spiritual family, supplying whatever is needed when one's physical family is small. I thank everyone for the service that has been rendered.
"Eulene was in pain from arthritis all over her body for many years. She was relieved of that suffering when she went home to be with God on December 13. She was buried at Oakwood Cemetery in Winona. Darrell remains in the Winona Manor Nursing Home."