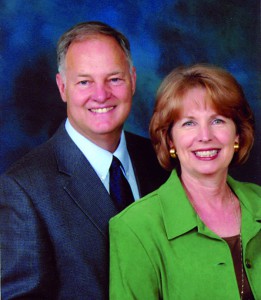 Wayne and Janet Barrier have been involved in mission work for over 30 years and their work is overseen by the Double Springs, Alabama congregation. Wayne serves as the Double Springs missions' minister and directs their World Evangelism Missions program with work in Asia, Latin America, and Europe. 
    The Barriers coordinate integrated evangelism efforts including mass media teaching, follow-up campaigns, and training of brethren for teaching and leadership. The program involves a team of 10-12 U.S. workers and 30 foreign co-workers. To accomplish training goals, World Evangelism Missions funds and directs the operation of 10 Bible schools in Asia that provide training to over 500 students yearly. Continuous campaign efforts to provide follow-up to mass media programs are coordinated and supported by the Double Springs team. 
    In addition, the Barriers help with radio, literature, and television programs directed by the Winona, Mississippi World Evangelism team. They also closely cooperate with World Missions (Jeremy Barrier, Madison Church of Christ). Joey Barrier, who serves as co-director of World Evangelism Missions, and Jamie Barrier also work under the oversight of the Double Springs congregation. 
    Wayne and Janet have served as adjunct faculty members of several colleges over the past 40 years, including Heritage Christian University and Faulkner University. Wayne presently serves on the board of directors for Heritage Christian University and Janet serves as a Heritage faculty member. Wayne is Editor of Global Harvest and a staff writer for The Voice of Truth International. Wayne, Joey and Jeremy direct the Maywood Missionary Retreat, the World Evangelism School of Missions, and the newly formed Heritage Christian University Center for Mission Training and Information. 
    The Barriers are blessed to work together with their children, Jenny, Jamie, Joey, and Jeremy and their families. They have seven grandchildren. The Barriers live in the Florence, Alabama area.